Maybe it is time to don our tinfoil hat. Here's the flat-out lie the WSJ reported this morning in response to the weekly unemployment claims release. It sure did make you think that the jobs picture is improving by the week:
The number of people receiving benefits through regular state programs, which cover the majority of workers, decreased by 1.1 million to 16.2 million for the week ended July 11. The decline extends the recent trend, with the number receiving benefits the lowest reading since the week ended April 11.

Just to make sure you grasped the good news, the WSJ added this chart for good measure: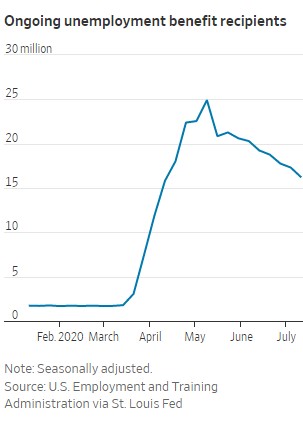 Actually, there was no improvement at all this week!
SUBSCRIBE TO CONTINUE READING
Already a subscriber?
Login below!