Talk about fantasyland. The government statistical mills reported this morning that consumers are back to spending like before, even as 32 million workers continue to draw unemployment benefits.
As shown in the chart below, 17.0 million workers are still drawing benefits from the regular state unemployment programs, while another 15 million are being paid by the Federal PUA and PEUC programs funded by the Everything Bailouts.
Needless to say, there has never been anything like this before. At the very bottom of the Great Recession of 2008-2009, for instance, the maximum number of UI beneficiaries was just 6.6 million or less than 20% of the current total.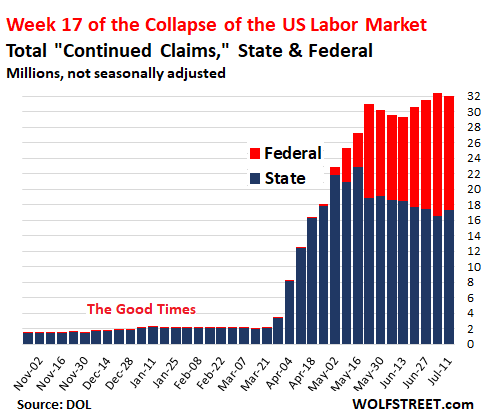 At the same time, June retail sales bounced back quite strongly. In fact, in inflation-adjusted dollars June sales of $203.84 million posted at 99.6% of their January level, which in turn had represented the cycle peak from the pre-crisis high in November 2007.
SUBSCRIBE TO CONTINUE READING
Already a subscriber?
Login below!