Gauleiter Cuomo decreed today that New York would require colleges to report when they have more than 100 COVID-19 cases. Apparently, schools reporting above that threshold will be forced to switch to remote learning.
Now exactly why college students, who are overwhelmingly asymptomatic or suffering from minor sniffles, should be incarcerated in their dorm rooms to zoom with professors lecturing to nearby empty class-rooms, he did not exactly explain.
We can. This is the Age of Covid and Cuomo is but one among the deranged legions of our rulers and betters who have become a clear and present danger to civil society, economic prosperity and personal liberty.
In this case, blindly committed to the impossible task of stopping the spread of a highly contagious virus that is life-threatening to only a tiny and identifiable sliver of the population, Cuomo and his ilk are literally tearing apart higher education for no good reason whatsoever.
As of September 4, for example, a survey of 17 large, representative universities revealed that since these schools re-opened there have been 11,018 "positive" PCR tests and zero hospitalizations owing thereto.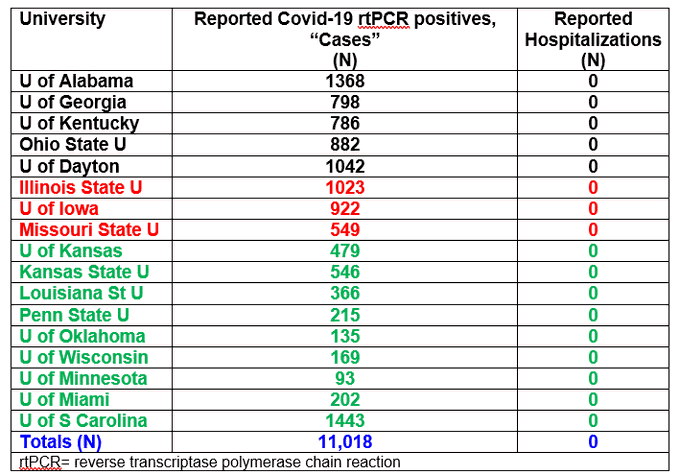 As indicated in the chart above, two of these schools are in the state of Ohio, where Ohio State and the University of Dayton reported 1,924 cases between them but not a single hospitalization. Yet that did not stop one of the growing crop of Nanny State autocrats, Ohio Health Director Lance D. Himes, from issuing an order requiring even students who test negative to be isolated in a quarantine house on campus.
SUBSCRIBE TO CONTINUE READING
Already a subscriber?
Login below!